Details

Catchup TV
With the dT Media MORE package, you will be able to access 14 Days worth of TV Catchup all there at your fingertips.
Now you can truly watch what you want, whenever you want.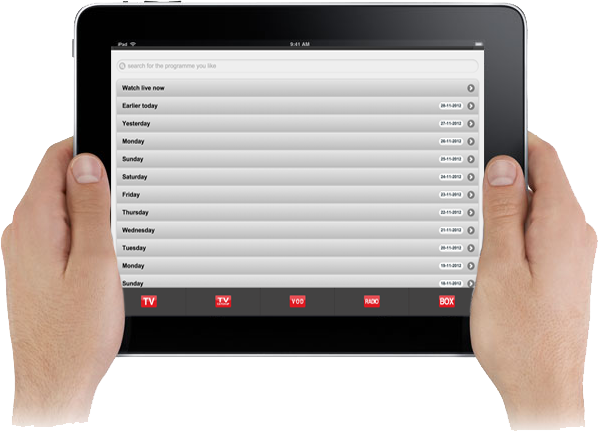 Go into Catchup Mode, Select the channel and either search for the show you are looking for by typing in the search bar or simply click on "earlier today", "yesterday" or the day before and so on.
The system automatically records the all the Catchup channels for you, and it is all stored in your very own Cloud based HDD (Hard Disk Drive) for your personal use.
From the moment you enable the Catchup service with dT Media MORE, you are renting your personal CVR (Cloud Video Recorder) which immediately gets to work and starts storing the Catchup channels in your Cloud Hard Disk Drive.
Video On Demand (VOD) library with thousands of shows.
All your stored content is automatically classified in 19 categories so you can easily find a UKTV programme that satisfies your current mood!
19 Categories (determined by the EPG)
Sports, Soaps, Drama (Movies), Documentaries, Comedy etc.
The VOD Search feature also lets you search for the movie or show across all the channels.
Immediate playback
Pause, Rewind & Fast Forward features will work if your device supports them.



NEW "MOVIES" feature which looks like a Video Club!
Your CVR software has now got smarter and makes life even easier.  All the content that your CVR stores is now automatically analysed to pick out the Movies and presents them to you in a "Video Club" style. For your convenience, we have also added a "rating" and "expiry" indicator.
The "Rating" (eg. 9/10) indicator lets you know how the Movie has been rated according to the opinion of thousands of people around the world.
The "Expiry" indicator lets you know how much longer the Movie will be available for you to watch on your CVR.



No Satellites, No Downloads, No Apps, No VPN's, No Proxy's.  Just enjoy.
Whether you want to watch UKTV on your TV, Smart TV, Tablet, Laptop or Smartphone... we have done everything in our power to make it all work without the need of downloading or installing Apps or any other additional software.  It just works out of the Internet Browser.  All the heavy processing takes place at our end, so the only thing you need is a device with an Internet Browser.

The Apple iPhone, iPad and iPod Touch will also work right out of the Browser without the need for an App even though they do not support Flash.
NOTE: Ordinary TV's require the optional dT Media BOX.  Smart TV's must have "Smart HUB" or equivalent Internet Browser feature with support for Flash.
Which channels are available in Catch-UP, VOD & Movies mode?.
See the full list of channels here. All the Channels marked with the "REC" icon are available for you to enjoy in Catchup & in VOD.