Details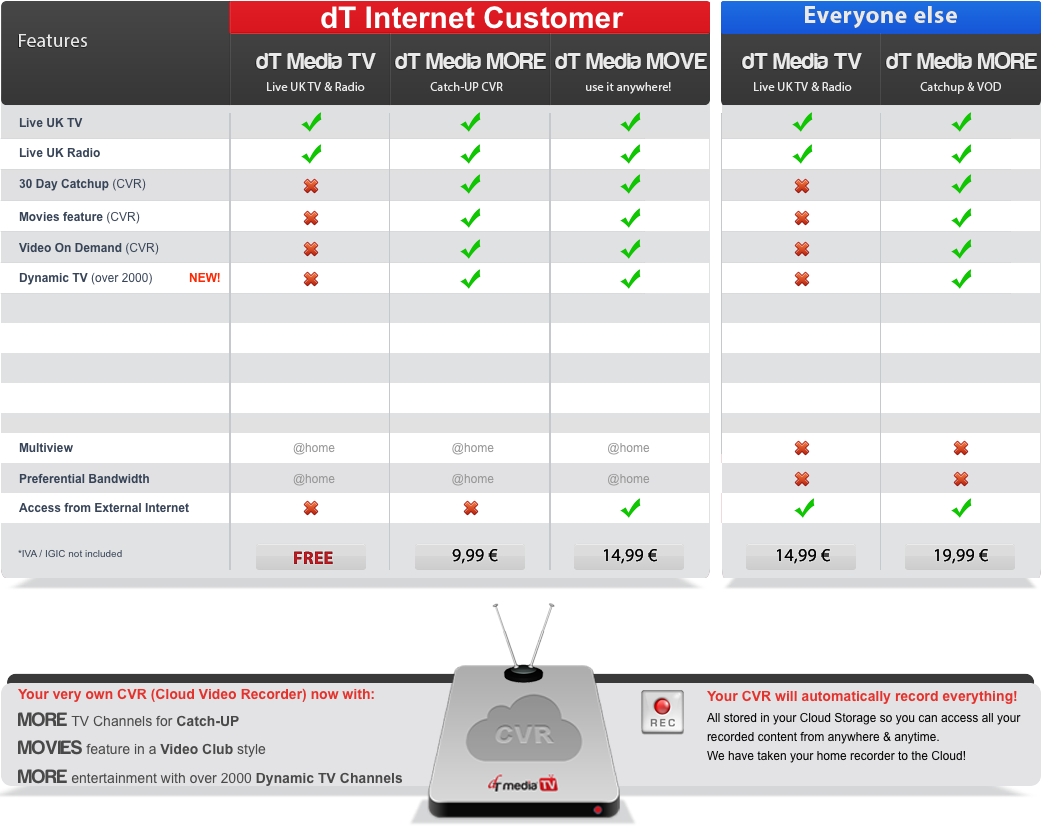 Providing access to dT ADSL Customers allows us to offer discounted pricing simply because everything stays on the same network.
- dT ADSL Customers are clients of Direct Telecom with a Low Cost ADSL Broadband subscription in their home in Spain.

Due to the characteristics of the dT ADSL Network, it is possible to offer its customers dT Media TV (for Live UKTV & UK Radio) for FREE without anty further need of Satellite services to obtain UK Television in Spain. 
How to qualify for dT ADSL Customer benefits:
I am a dT ADSL Customer!
·  If you are a dT ADSL Customer, your Broadband line is already active and no more is required.  Simply take your Internet Browser to http://dtmedia.net and enjoy.
   The system will automatically notice that you are accessing from a dT ADSL line and will not ask you for a username or password.
I am a dT Customer but don`t have ADSL (or it is with another provider)!
·  If you are a dT Customer for Low Cost Calls / Line Rental or other services, you will either have to switch your ADSL to dT or order an ADSL line with dT if you don't have one.
I am not a dT Customer!
·  If you are not a dT Customer at all you will have to order or switch to the dT ADSL Service to enjoy FREE UKTV & Radio as well as the discounted pricing for MORE & MOVE.

Billing: As a dT ADSL customer, the optional dT Media MORE package will simply be added to your monthly invoice for your commodity.
If you are interested in switching to dT ADSL for FREE TV & reduced pricing for dT Media MORE, contact us HERE
How to enjoy dT Media TV using another Internet connection:
I am have ADSL with another provider!
·  If you already have an Internet connection with another provider, you can still enjoy dT Media TV by registering for access via http://dtmedia.net.  The system will notice you are accessing from an "external" Internet connection so it will prompt you to register for a 3 day FREE Trial &/or invite you to register.  The rates that apply are in the "Everyone else" column of the price table and will be paid on a month to month basis.  The system will offer you multiple options for payment, and you will have to renew subscription each month.

If you wish, you will be able to purchase a Dune HD Set Top Box to enjoy the service on your TV.

Please note, that it is impossible to offer "preferential bandwidth" if you are using dT Media TV on Internet connections from another provider.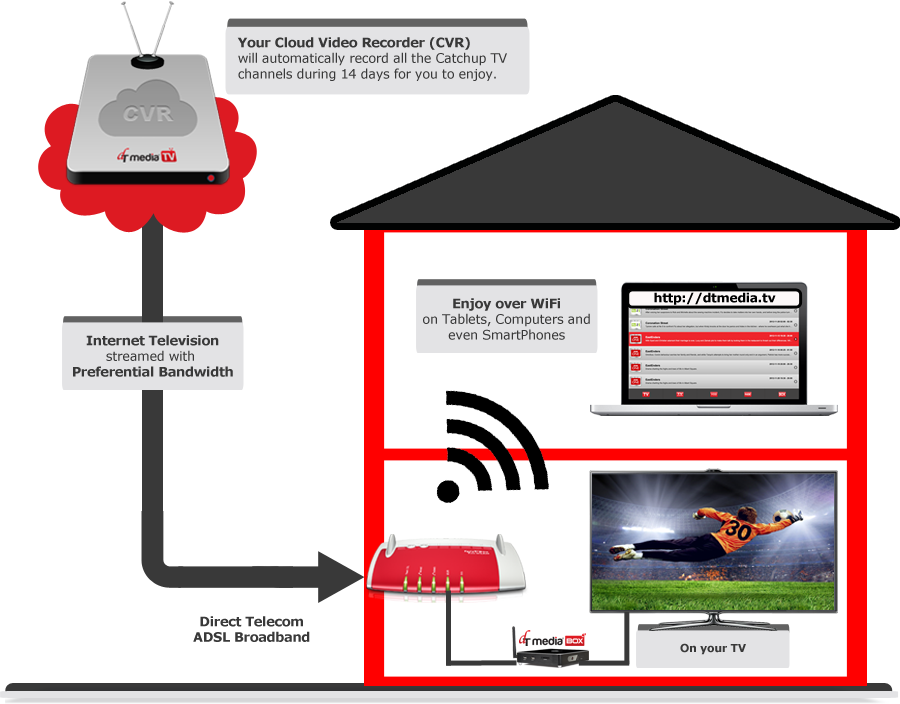 How to setup the Dune HD with a Wireless connection to the Router - Online Video